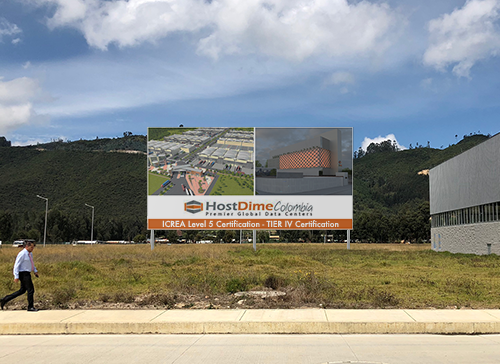 HostDime has been operational in Colombia since 2008 with a sales/support office and a data center in Bogotá to service an array of Data Center Infrastructure services locally in the country. Recently, HostDime Colombia has seen accelerated growth and met ambitious goals. Specializing in Colombia Data Center Infrastructure is crucial for local enterprises, businesses, bank institutions, and international companies who seek services in the Colombia region. HostDime is one of the few companies who is able to service Data Center Infrastructure physically in Colombia.
Due to the recent growth and based on the demands we are seeing in the market, we began to take action on our Colombia growth strategy with the purchase of a land parcel in Bogotá, Colombia last week. The land parcel is located in a highly secure and an enclosed industrial park in North Bogotá. In the next 1-2 years, this will be the future home of HostDime Colombia's planned Tier IV facility, a rarity in the country, that will be built in the next 1-2 years. It will be used to augment our current capacity and infrastructure we service from.
"Our vision from the early days to be a leader in the global data center industry continues to drive us to build these highly mission critical facilities in unique, global edge locations. The world is noticing that being on the edge of global locations is the next frontier. HostDime has been making these global investments for over a decade to best service our clients data center needs with a level of experience and trust that not many clients have in companies." – Manny Vivar, CEO & Founder of HostDime Global.
Stay tuned for more information about this development. If you are interested in our current Colombia products, be sure to read on.
Colombia Data Center
HostDime's current operated Colombia data center in Bogotá currently has over 3500 square feet of usable rack space. The primary objective in designing this facility was to ensure both electrical and mechanical systems were efficiently maintained to support scalability and sustain principal performance.
The data center features multiple active power and cooling distribution paths, with one path being redundant (N+1 redundancy). This allows us to provide 99.995% availability.
The highly-secure data center facility features open door sensors throughout the building, CCTV recordings archived for seven days, and entry controls including biometric sensors.

Hit up our chat for any questions you may have regarding our Colombia products and/or our upcoming facility!
Jared Smith is HostDime's Director of Marketing.