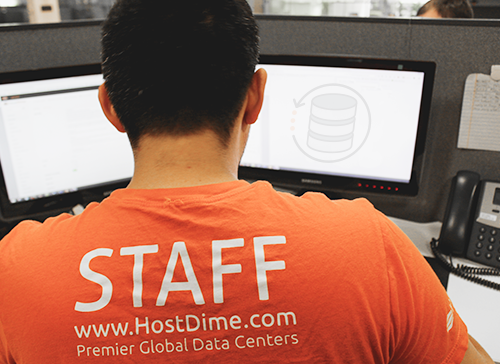 March 31st is World Backup Day, which always precedes April Fools Day to remind you that only fools don't have a data back up and recovery plan.
For some businesses, not having a disaster recovery plan can be the end; 1 out of every 2 businesses never return after a data disaster. Those that survive and thrive have a response to disaster BEFORE it happens. Be proactive when it comes to backing up your sensitive data.
Take some time to back up your data and create a plan to maximize the redundancy and availability of your business.
Why are Backups Necessary?
Human error: someone accidentally deletes, overwrites, or loses something essential.
Update gone wrong: updating something like a Content Management System can cause unexpected problems.
Emergency maintenance: hardware can and does fail spontaneously at times, often taking crucial data with it.
Malicious attacks: hacking and DDoS attacks are at an all time high; an attack often results in corrupted or destroyed data.
Development: always take a backup before making a significant change to your website or server.
HostDime has got your back with three services designed to keep your data safe and backed up.
First up, we have our Managed Cloud Backup service, powered by industry leader Veeam!
Enjoy increased agility, scalability, and improved cost-efficiency over traditional backup services by extending availability and backing up your server to the cloud.
Here's how it works:
HostDime's Managed Cloud Backup service is available to our bare metal and cloud server clients for $30 a month. You will receive a Veeam license and 50 GB of backup storage. Add additional 50 GB blocks of storage for $5 per block.

Whether or not you are a current user of HostDime infrastructure, take advantage of our Disaster Recovery Service and store your data in any of our high security data centers located around the globe. Save and recover all your files and software hassle-free.
Create a plan catered to your own specific needs. Maybe you want to have your data in a secure data center in case of a natural or man-made disaster at your business. Maybe you want HostDime to perform your businesses' data backups every night. Everyone's needs are different, but the goal is the same: being ready when downtime or disaster strikes.
Hardware failure, data corruption, or human error can bring down businesses and take away revenue. Ensure that data is on a redundant file system at any of HostDime's facilities located in the United States, Brazil, Mexico, United Kingdom, Colombia, and India.

HostDime also offers in-house remote storage as an add-on to your server, helping to maximize redundancy and improve overall performance with your current server build.
Our remote storage service is backed by a SAN-based storage array. SANs are a more effective back up and disaster recovery set-up due to its storage replication ability. This SAN-based solution is highly scalable to your evolving needs, with extra capacity added as required.
Simply mount our remote storage service to your server, even if you are with another provider. Push and pull data from your account as needed. HostDime has remote storage systems in the United States, United Kingdom, and Brazil. Choose the facility located closest to your server or business to receive the fastest transfer speeds possible. 25GB starts at just $10 a month.

Lastly, for more backup resources, we have an entire section in our Knowledge Base devoted to backups. Our Backup Primer is especially helpful. Good luck and happy backing up!