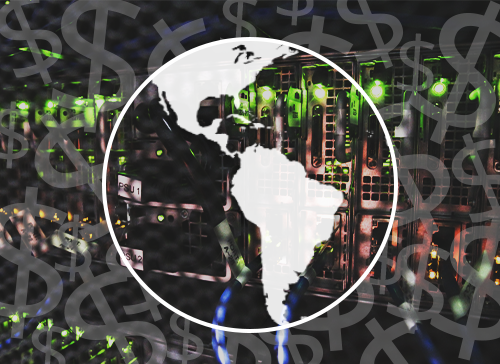 As the world transitions to a digital-first economy, Latin America is becoming increasingly reliant on cloud computing services. Unfortunately many Latin Americans are paying higher prices for these services than most other regions around the world.
The reason for this is due to a number of factors, such as lack of competition in the region, poor infrastructure, and limited access to high-speed Internet. In addition, taxes and other fees associated with international transactions can add to the cost of cloud computing services in Latin America.
The first major issue contributing to this price disparity is a lack of large data centers located in the region. While countries like Brazil and Mexico may have some local options, most businesses end up relying on international providers with servers based outside of Latin America. This leads to longer latency times, as well as increased costs associated with transferring data across borders. Additionally, local governments often impose high taxes.
Another problem is lack of competition in the region. Many international companies have yet to fully enter into the market, leaving local providers with little incentive to keep prices low or offer competitive deals. As a result, customers often end up paying more than they would elsewhere in the world.
Drilling down even deeper, many countries in Latin America do not have access to reliable Internet infrastructure or speeds fast enough for optimal performance from cloud-based services. This also increases latency and reduces efficiency which then drives up costs even further as users must purchase additional hardware or software resources just to get acceptable levels of service from their chosen provider.
Finally, there are also cultural factors that come into play when looking at pricing models across different regions within Latin America; some areas may be less willing (or able) to invest heavily upfront while others may prefer subscription-based plans where they can spread out payments over longer periods of time without incurring additional fees each month or year. So depending on where you're located geographically, your options could vary greatly when it comes down to price points associated with different types of cloud computing solutions offered by various providers throughout the region.
HostDime's Latin American Data Centers
HostDime is hoping to make high cloud costs and high latency a relic of the past. We have embarked on designing, building, and operating purpose-built data centers in global edge locations for the next generation.
In Latin America, we operate four data centers in three countries – Brazil, Colombia and Mexico.

Brazil: HostDime has had the privilege of being one of the most reputable data center providers in Brazil for over a decade. Our two Tier 3 data centers in João Pessoa and São Paulo give our clients the ability to target both the northern and southern markets of Brazil.
80% of Brazilian websites are hosted out of the country due to lower costs. Our goal is to lower that number drastically with our Brazil data centers offering lightning fast speed. By hosting sites locally, latency can be reduced to under 75ms, compared to more than 150ms latency for websites hosted on U.S.-based servers.

Colombia: HostDime has just opened one of the largest data centers in Latin America with our eye-catching, 70,000 square foot, Tier IV data center in the free zone of Tocancipá, Cundinamarca near Bogota. The facility features full private suites, colocation cage space, private locking colocation racks, and an entire floor for cloud-based products. The data center is designed to support over 800 racks.
This is one of the only Tier IV data centers in Colombia. What does Tier IV mean? It means availability, and lots of it. Tier IV is the highest possible certification; Tier IV data centers have an uptime of 99.995%, meaning annual downtime equals no more than 26 minutes.

Mexico: A city leading the charge of interconnectivity throughout the region is Guadalajara, capital of the state of Jalisco. Guadalajara is nicknamed the Silicon Valley of Mexico thanks to several thousand start-ups and multinational giants like IBM, Oracle, Intel, and Dell setting up shop in the area.
HostDime's Guadalajara data center features a Layer 2 network that has multiple diverse and redundant connections from Mexico's leading bandwidth providers that reach 95% of all Mexico homes at the lowest latency.
As our current Guadalajara facility reaches capacity, construction will soon begin on our new Tier IV data center in Guadalajara, which you can see designs on here and at the video below.
With more applications than ever moving to the "cloud", aka purpose-built data centers, there's an obvious and massive need for more localized uses at the edge. Uptime and location have never been more important, and HostDime is building these data centers for the needs of modern day consumption and the evolving technology landscape. For more information or any questions you may have, contact a member of our in-house Data Center Infrastructure team!