40% of businesses never return after a data disaster. These catastrophes usually occur when all your business data is in one location. Whether it's accidental deletion or a natural disaster, you're putting your enterprise at risk.
Make sure your data is always available off-site with HostDime's Managed Cloud Backup, powered by industry leader Veeam!
Enjoy increased agility, scalability, and improved cost-efficiency over traditional backup services by extending availability and backing up your server to the cloud.
The Benefits of Managed Cloud Backup
BACK UP TO THE CLOUD: Take file / directory level backups, volume (drive) level backups and full server / VM level backups.
FULL SERVER BACKUPS: Customer sends their backups offsite to enterprise-class storage repository.
COMPLETE DATA CONTROL: Access and recover data in hosted backup repositories directly from the backup console.
MODERN BACKUP ARCHITECTURE: Features include backup copy jobs with built-in WAN acceleration and forever incremental backups.
END TO END ENCRYPTION: All data encrypted before it leaves the network via secure SSL connection.
OS AGNOSTIC: Whole-server backups for both Windows and Linux machines.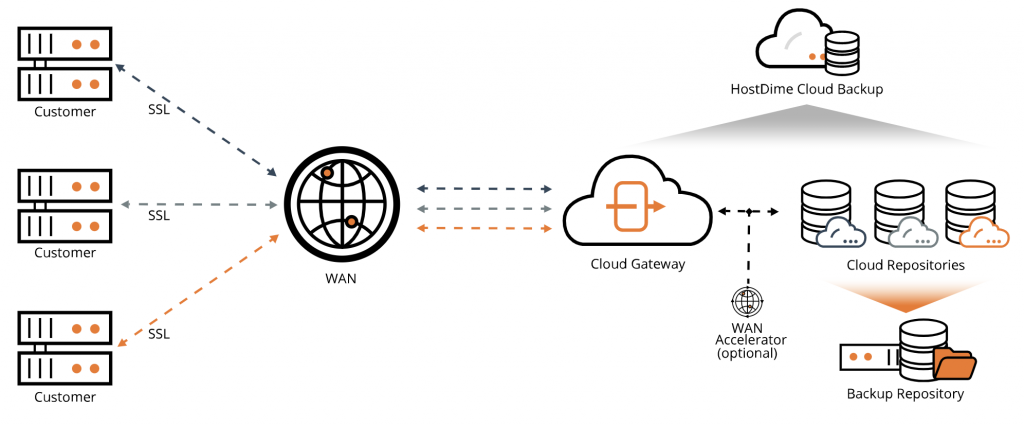 Following the 3-2-1-0 Rule
Smart enterprises follow the 3-2-1-0 rule of backing up your operations.
The 3-2-1-0 rule recommends keeping 3 copies of your data, which should be stored on 2 types of media, with 1 copy being available offsite, equaling 0 errors during the backup process.
Getting available backups offsite can be difficult because of bandwidth restrictions, high data volumes, and the expense to build such a backup solution. With HostDime's Managed Cloud Backup service, your business will master the 3-2-1-0 rule by setting up scheduled backups, storing them on multiple types of media, and keeping a backup copy off-site.
HostDime's Managed Cloud Backup
Veeam's cloud backup is built on HostDime's high availability and fault tolerence infrastructure that provide continuous operation. The system is connected to dual power and multiple UPS, providing you with guaranteed uptime if you need to depend on your backup.
HostDime's Managed Cloud Backup service is available to our bare metal and cloud server clients for $30 a month. You will receive a Veeam license and 50 GB of backup storage. Add additional 50 GB blocks of storage for $5 per block.
Leverage our data centers to protect yourself and provide ultimate peace of mind. Open a chat now and we will build your cloud repository.