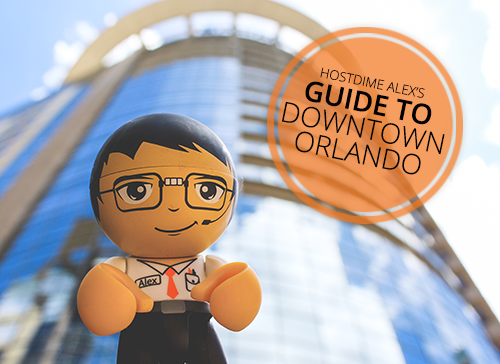 Downtown Orlando Guide
After enjoying 5 years next to the UCF campus in East Orlando, HostDime corporate is heading back to Downtown Orlando as we await the move to our new Data Center in Q4 2020.
Over the years, HostDime employees have learned the ins and outs of Downtown Orlando, which we will gladly share with you now. Let HostDime customer service mascot Alex be your guide to the highlights of this beautiful area. The following places are all within walking distance of HostDime's office.
Best Downtown Orlando Attractions
Church Street – Gaze into the past at the Church Street train station, which opened in the late 1800s. Located in the heart of Downtown Orlando, Church Street features professional basketball, live entertainment, eclectic nightlife, and renowned restaurants. The train station is now used by the SunRail, Central Florida's commuter train that some of our employees ride to work.
Amway Center – Opened in fall 2010, Amway Center is one of the most modern and technologically advanced arenas in the world. Home to the Orlando Magic basketball team and the Orlando Solar Bears hockey team, Amway houses over 20,000 seats for large touring artists and acts.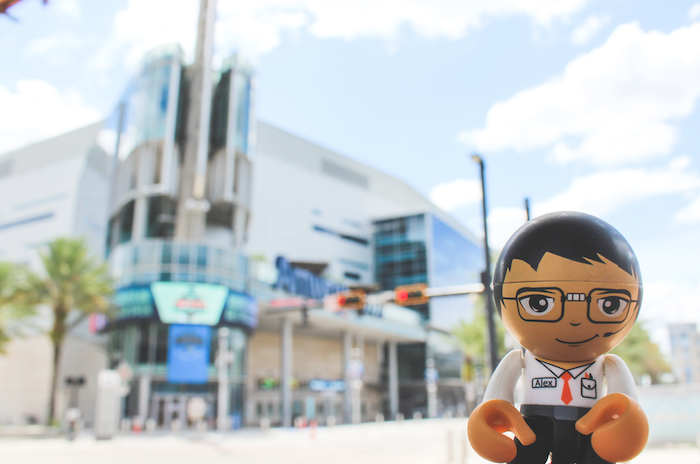 Orlando City Stadium – Two blocks from the Amway Center is the home of the Orlando City Lions and Pride soccer teams! Orlando City's 25,000 seat stadium is a 100% privately funded project that was designed with the intention of creating the loudest atmosphere in the MLS. It features North America's only safe-standing supporter section and the low slanted roofline amplifies crowd noise.
Orange County Regional History Center – This three story museum showcases the vast collections of the Historical Society of Central Florida. Exhibits, exhibits, and more exhibits of historical significance of Orlando, as well as traveling showcases. Perfect for a cheap date night.
Dr. Phillips Center for the Performing Arts – The Dr. Phillips Center is a huge venue taking up 2 city blocks and includes a 2,700-seat amplified hall (Walt Disney Theater) for Broadway musicals and multi-genre concerts, and a 300 seat theater (Pugh Theater) for smaller shows. A third theater for ballet, operas, etc will open in 2020.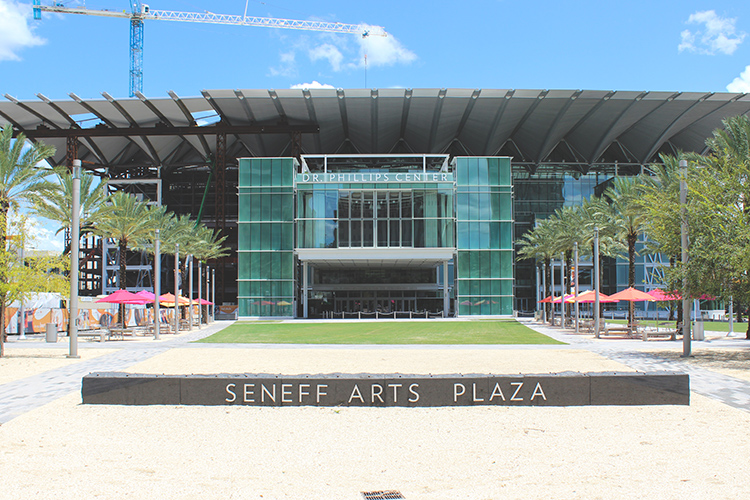 Orange County Library – This thing here is much more than a library. Not only are there thousands upon thousands of books, you can also download free music and e-books. Stream movies, TV, music, or audiobooks instantly from your smartphone, tablet or PC. Enjoy Wi-Fi throughout, and take technology classes. The new 26,000-square-foot Dorothy Lumley Melrose Center for Technology, Innovation & Creativity is on the second floor of the library. It includes audio, film, and photography studios, as well as flight simulators and a fabrication lab with 3-D printers.
One more thing about the magic of this library card. The Local Wanderer card gets you into museums, concerts, gardens, sporting events, and more for FREE!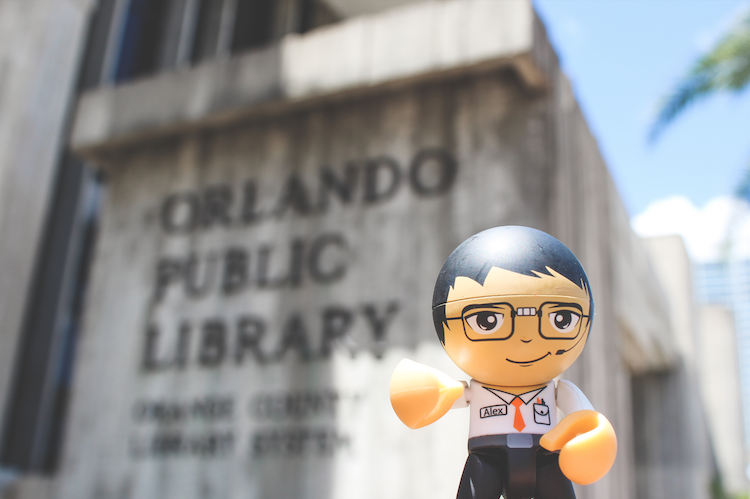 Lake Eola – Lake Eola is a popular, picturesque location, with the fountain in the middle serving as the official icon of Downtown Orlando. Encounter hungry swans around the one mile trail around the lake, or ride around the lake in a giant swan-shaped paddle boat. On Sundays, the Lake Eola Farmers Market is bustling with vendors selling DIY crafts, organic food, and healthy drinks.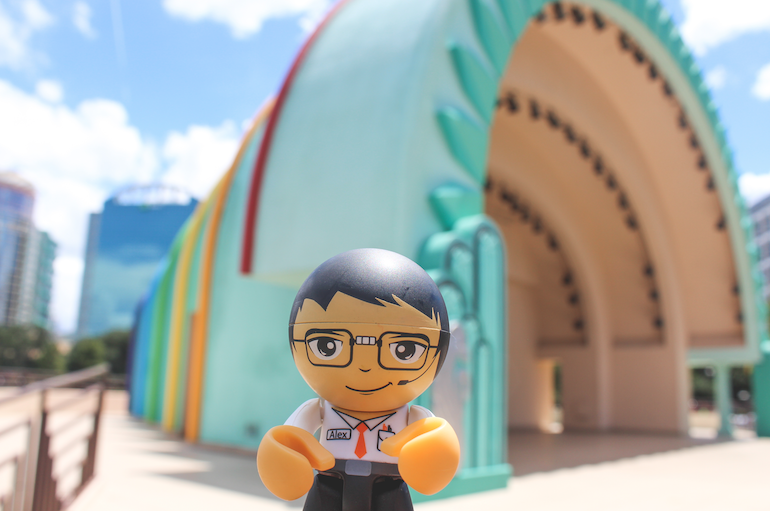 SAK Comedy Club – SAK is Orlando's live improv comedy club that seats 200 people, with shows Tuesday-Saturday. Entry is only $5 on Tuesdays and Wednesdays, beer and wine is available to make the comedy funnier.
Plaza Cinema Cafe – Make yourself at home at this giant downtown theater. Watch the newest movies in big leather chairs, while enjoying a full menu, beer, and wine.
St Luke's Cathedral – Take a tour or watch a service at the structurally beautifully St Luke's Cathedral, which was Florida's first Episcopal Cathedral over 100 years ago. In addition the newly remodeled St. James Cathedral is just a couple blocks away.
Grand Bohemian Gallery – The Grand Bohemian Gallery is in the Grand Bohemian Hotel and spills over into the local Starbucks. The upscale hotel is famous for their delicious brunches and live jazz evenings.
Best Downtown Orlando Restaurants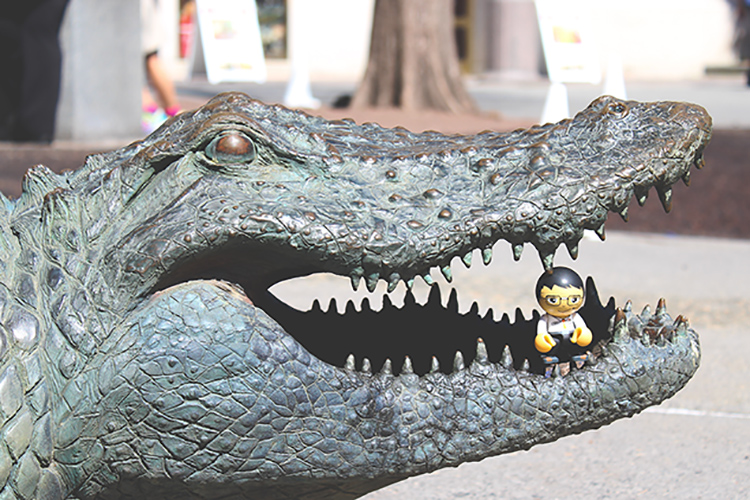 Ceviche Tapas Bar & Restaurant – Named #1 restaurant in Orlando by USA TODAY, and for good reason. Ceviche on Church Street serves more than 50 tapas inspired by old Spain recipes; recommendations include the Sangria, paella, and churros.
Dovecote – Located in a bank lobby, Dovecote is a new French restaurant that's highly recommended for brunch, lunch, or dinner. You won't go wrong with the pork belly, hot chicken sandwich, or oysters. For drinks, the St Germain Spritz is a personal favorite.
Harp and Celt Irish Pub and Restaurant – The Harp is the restaurant, The Celt is the pub. Both reek of authentic Irish influence inside and out. Get yourself some fish and chips with a Guinness while watching a live soccer game. For Premier League games, arrive early to ensure entrance into the raucous environment.
Gringos Locos – Orlando's local version of Chipotle, Gringos offers giant burritos for $7, and Double D's tacos that combine a hard taco inside a soft taco. Open until 3 AM every night.
Kres – Kres is one of the best reviewed restaurants in Downtown. Both trendy and classy, the servers are extremely attentive and the food is worth the price. The filet mignon and beef wellington are both recommended.
Avenue – This pub, lounge, bar hybrid "welcomes beer drinkers and cocktail swiggers, fussy eaters and foodies alike." Try the chicken and waffles or the cronot (croissant donut). Menu changes often.
Panino's Pizza – Panino's is good at 1 PM, but it's great at 1 AM. The perfect food after a night downtown. The lunch special rocks but may make you sleepy: $5.50 for two giant slices, two garlic knots, and a drink.
Le Gourmet Break – Best croissants in Orlando hands-down, not to mention sweet pastries and unique sandwiches. Open early for breakfast and lunch.
Best Downtown Orlando Bars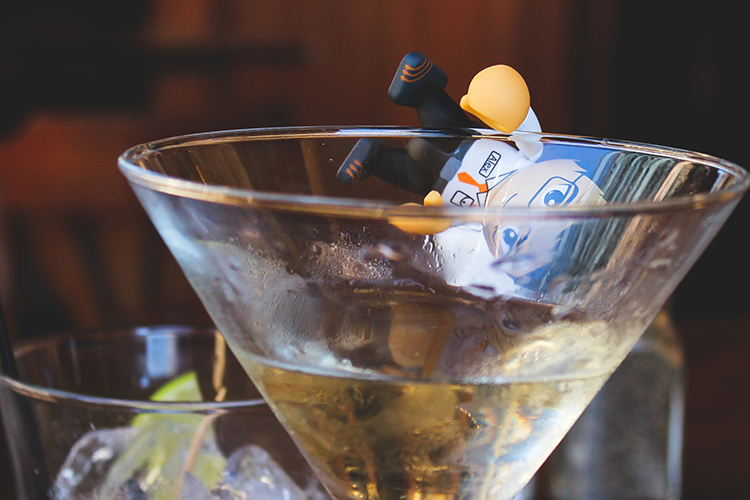 Joysticks Arcade Lounge and Retro Bar – Play video games for free in a throwback 80's decor while drinking crazy concoctions. Video games include Donkey Kong, Pac Man, Atari, air hockey, pinball and much more.
Tanquerays Bar and Grill – This former underground bank vault has been serving up strong drinks since 1989. Stick around for the great live music late in the night, usually jazz. Smokers welcome.
The Lodge and The Woods – Looking for a dive bar? The Lodge is the spot. The ski lodge theme features moose head mounts, year round Christmas decorations, and cheap drinks. Looking for something more upscale? Head upstairs to The Woods, a craft cocktail bar (excellent Old Fashioneds!) with a forest decor that may be the most beautiful in all of downtown Orlando.
Aku Aku – Tucked in between World of Beer and fellow standout bar Stardust, Aku Aku is a tropical tiki bar with huge cocktails served to you in unique glasses. Fun fact: this is the building Walt Disney signed the land contract for Walt Disney World.
Hanson's Shoe Repair – This speakeasy is one of the best kept secrets in downtown. Go through NV bar on Pine Street, head to the second floor, ring the door bell, say the password, and enjoy powerful, expensive cocktails in an intimate setting. You can find that evening's password on their Twitter page.
Latitudes, Cahoots, Chillers – Looking for a little tropical chill in your evening out? Latitudes is a rooftop tiki bar perfect for balmy Florida evenings. For a change of pace, go down one flight to Cahoots (which was secretly open during the prohibition) and play some N64 Mario Kart on their TVs or some golf on their Golden Tee arcade. On the ground floor, you will see Chillers, the longest running bar in Orlando, famous for their frozen drinks.
Wall Street Plaza – 1 side street, 8 bars: Cantina, Other Bar, Hen House, Hooch, Monkey-Bar, Shine, Waitiki, Sideshow, with fun events happening monthly. This is the place to be for Taco Tuesdays.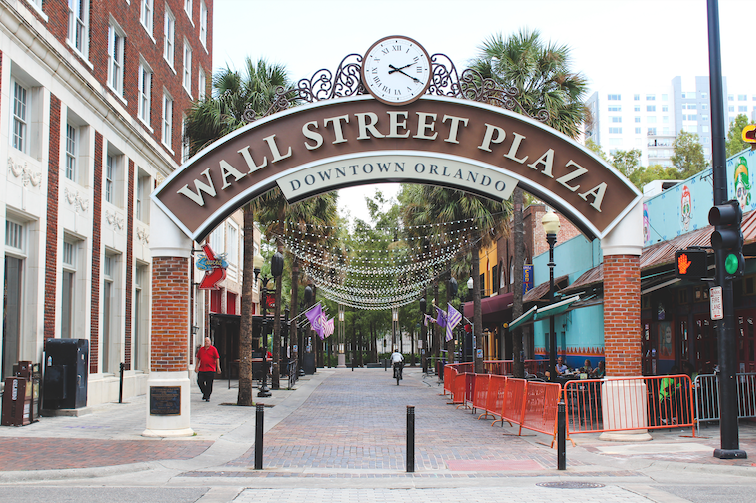 Well, that's Downtown Orlando in a mile wide nutshell. If you are a local, please comment and add to the list.
While in Orlando, head over to HostDime's state-of-the-art, 25,000 square foot datacenter, located 10 minutes from downtown. Set up a tour appointment and we'll gladly accommodate you.
HostDime is proud to call Orlando home. Follow us on Twitter and Facebook.
This article was written HostDime's Content & SEO Strategist Jared Smith.