Deciding how and where to house your infrastructure is not something to be taken lightly. For many enterprises, issues with cost, time, and space of system operations crop up, and a decision must be made of whether to keep your servers in-house or move them to a data center.
We're here to say that spending countless hours on server management and not on your core business is not a smart choice, and you're a smart person. Nothing embodies peace of mind quite like the words managed colocation, and here's why.
The server room started as a business necessity that only required a computer rack. Businesses could get away with the bare essentials up until about a decade ago, but times have changed. Now, companies need a fast and nonstop operation for system deployment, usually requiring a few dedicated server machines. These servers need love and attention, in the form of cooling, HVAC, a UPS fed from a generator, and so on.
Small businesses sometimes store their servers and network operations in a server closet, while larger enterprises often build their own mini data center, consisting of a room or two. An operation like this can become significantly expensive.
Your office's real estate and resources are precious. Turn your server room into something more productive, move all the equipment out, and find nearby colocation.
Managed Colocation
Once a decision has been made regarding infrastructure outsourcing, its time to consider self managed vs managed colocation. HostDime offers both services, and here's a breakdown of the differences: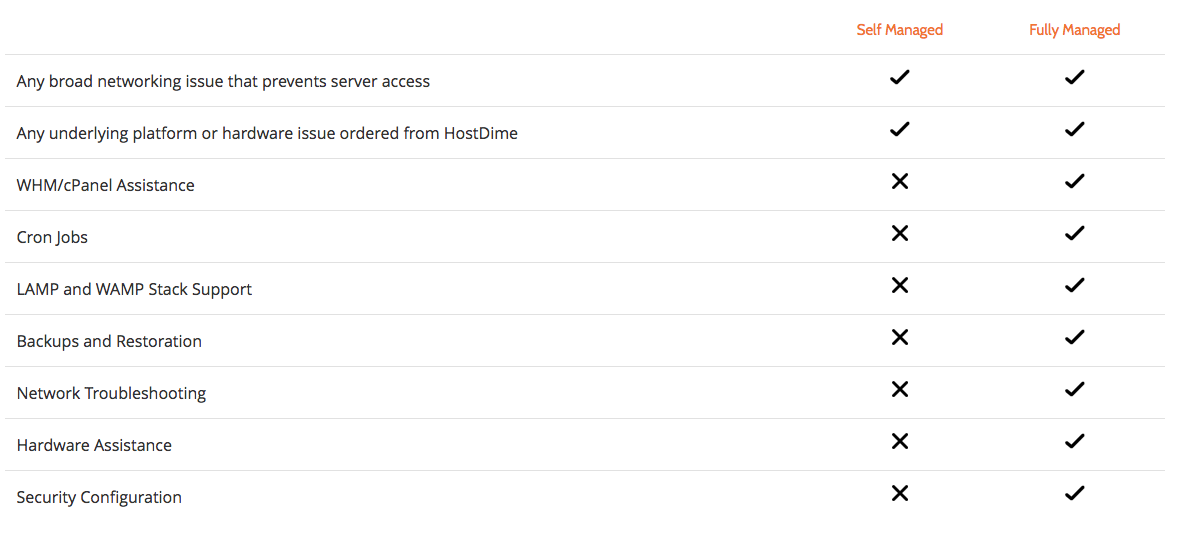 This chart is just a small sampling of what's covered under HostDime's fully managed service. HostDime has 24/7 on-site staff that oversees the set up of your server, security, data transfers, management of preinstalled software, operating system, and any troubleshooting along the way. Peace of mind is what we deliver; those who use our managed services find that IT outsourcing saves plenty of time and money and headache in the short and long run.
Managed colocation starts at $240, while self managed colocation is $100. Contact us for your own customizable solution. We also provide you the freedom to purchase add-ons to our self managed service a la carte; find exact prices here.
HostDime's Orlando Data Center
HostDime's Orlando colocation facility includes complete redundancy in power, network connectivity, and unparalleled security and safety.
Our colocation facility is located just off I-4, allowing easy access from anywhere in central Florida. If you live or are going to be in the Orlando area and would like to tour our facilities, please give us a call at (407) 756-1126 and we would be more than happy to accommodate you in our Orlando colocation data center. For now, enjoy a virtual tour of the data center:
If you have relatively new server hardware, find nearby colocation and save yourself the headache. If you have outdated hardware, retire your gear and buy some customizable dedicated servers ideal for your operation.
We will price-match or beat any reputable colocation provider in the United States. Choose from 1U to Full Racks and Private Suites! Colocation in 10 locations worldwide. Request a quote now. For specific inquiries on configurations, installations, and hardware diagnosis, don't hesitate to open up a ticket for a quick response.
HostDime is a privately owned, Global Data Center Infrastructure provider offering cloud-native infrastructure products and services including bare-metal servers, cloud servers (both private and public), colocation, and Hardware-as-a-Service in all our unique global edge data center locations.
HostingAdvice.com wrote a great article on our legacy of "top-tier infrastructure solutions with great customer service for nearly two decades." Read about our goal to deliver the highest in uptime around the world thanks to next gen, edge data centers.