Enterprises are always trying to find and establish the next major growth area for their digital business, which is why there's much excitement recently about Latin America. A recent report by The Global Interconnection Index projects that while Latin America is the smallest bandwidth region, it is growing the fastest via new infrastructure like data centers and submarine cables.  
Leading the charge of interconnectivity throughout the region is Guadalajara, capital of the state of Jalisco. Guadalajara is being nicknamed the Silicon Valley of Mexico thanks to several thousand start-ups and multinational giants like IBM, Oracle, Intel, and Dell setting up shop in the area.  
HostDime's Mexico Data Center is also located in Guadalajara. HostDime Mexico's network has multiple diverse and redundant connections from the leading bandwidth providers including Megacable, MetroCarrier, Axtel, and Telmex. Multiple Gigabit fiber connections run into our data center facility. This high performance routing reaches 95% of all Mexico homes at the lowest latency.  
Mexico Data Center in Guadalajara, Jalisco
HostDime's Guadalajara facility, which you can take a virtual tour below, is 10,000 square feet and fully equipped with cutting edge technology like powerful generators, UPS systems, high security, and fire suppression systems. Similar to HostDime's Orlando data center, this facility implements a green POD design which allows efficiency and scalability on demand. If clients have their own server hardware, they can physically house it with our
colocation service
.  
Mexico VPS & Mexico Dedicated Servers
The following VPS packages are physically located in Mexico and feature KVM virtualization, 3 TB monthly bandwidth with a 1 Gb/s uplink, 2 usable Mexico IPs, and multiple OS options.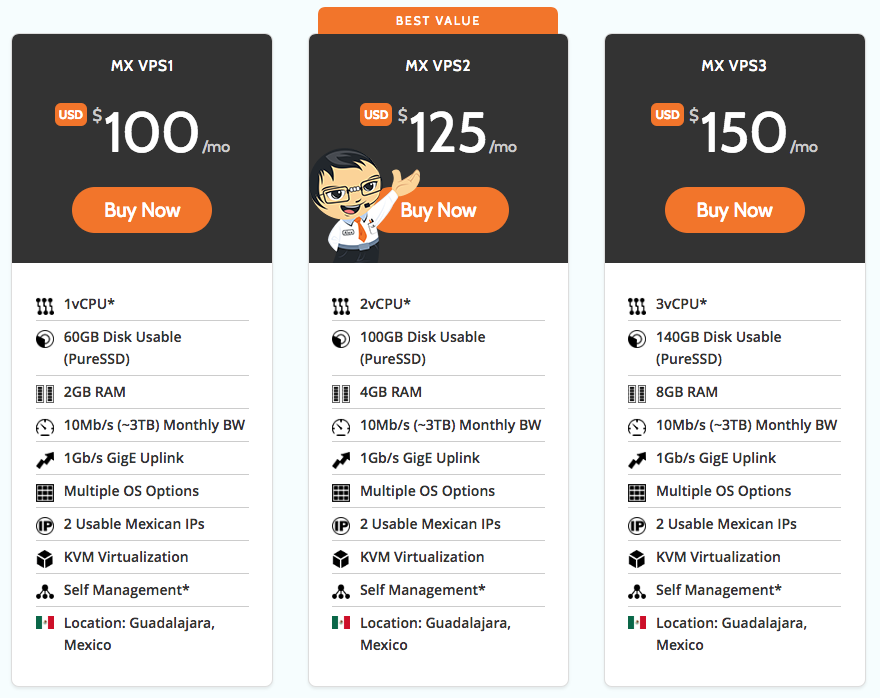 The following managed dedicated server packages are physically located in Mexico and contain a hot-swappable drive chassis, 10Mbps bandwidth, 100Mbps uplink, 4 usable Mexico IPs, and multiple OS options.
Jared Smith is HostDime's Content & SEO Strategist.