We all know Information Technology is big business, but did you know it was $4 trillion dollars big? That's a 4 followed by 12 zeros. The latest projections from research company Gartner show worldwide IT spending at $3.76 trillion this year, projected to increase to $3.9 trillion in 2020.
As we can see in the chart below, the biggest growth area over the next 18 months should be enterprise software as IT institutions continue their shift to cloud services.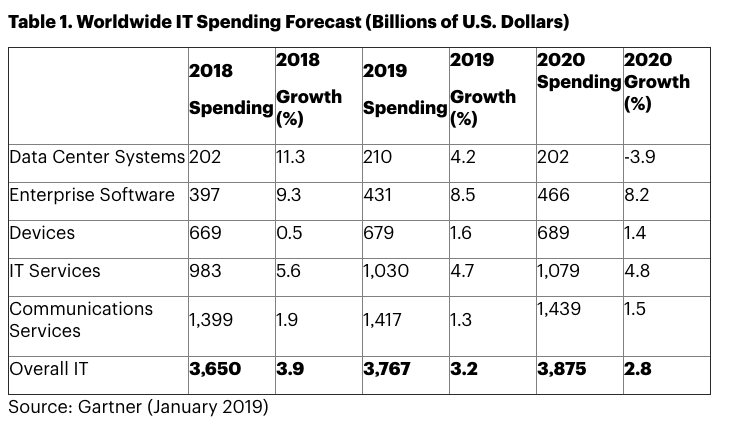 We have written several stories recently on this Blog about the rapid adoption of cloud tech, big data, and the ever-evolving Internet of Things. This has infiltrated most business industries who must now strategize on how to approach the present and future of their physical infrastructure.
"Spending is moving from saturated segments such as mobile phones, PCs, and on-premises data centre infrastructure to cloud services and Internet of Things (IoT) devices." – John-David Lovelock, Gartner's VP of Research.
Data management company Druva recently surveyed 170 organizations and 90% of respondents said they were running, or planning to run, virtual machines in the cloud.

Companies are flocking to the cloud for many reasons. Here's the cliff notes for why:
Ability to easily scale CPU, RAM, and disk space as your needs grow.
High availability provides data durability, redundancy, and near perfect uptime.
Reduces infrastructure overhead.
Easier for an enterprise to expand globally.
Better security than on-premises servers.
Ease of management.
The HostDime Cloud is the most scalable, highly available, and highest performing solution in our 15 year history. Leverage our cutting-edge hardware of Enterprise-grade processors and industry best SSDs to create instant infrastructure in seconds!
Check out the following 30 second walk-through tutorial to see just how easy it is to spin up a virtual machine.
The HostDime Cloud is billed hourly and deducts from a credit system. To begin, make a deposit. You may add as little, or as much, credit to your account as you would like (minimum deposit is $20.00).

For a limited time, HostDime will match your first credit deposit! For example, if you put in $1,000, you will receive $2,000 total! There is no maximum to the amount we'll match!

Cloud servers start at just $35 a month! To take advantage of the deposit match, please open a ticket in CORE and we will add your funds; you have 30 days from purchase date to request a credit match from our sales team.
Jared Smith is HostDime's SEO and Content Strategist.