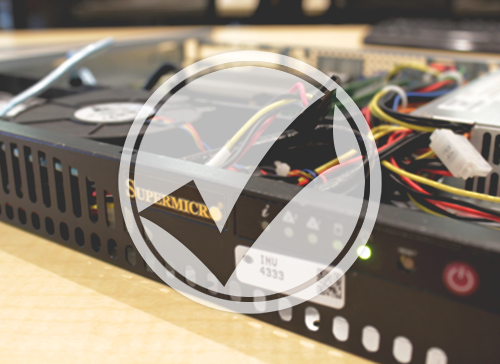 We can't think of a better time than the start of a new year to make sure your server is humming along to the best of its abilities.
Like most things in life, your servers need to be looked after every now and then for optimal performance. Here's some easy maintenance steps we can suggest for clients to ensure everything is running smoothly.
Server Maintenance Checklist for 2023
1. Backup your data. If you listen to just one thing in this article, let it be "backup your data". Always be proactive when it comes to your business. 1 in 4 businesses don't reopen after a data disaster.
It is strongly recommend that you save your backups to a remote location in addition to the local destination. A second secure location is preferred in case of hardware failure, data corruption, or human error. HostDime offers managed cloud backup as an add-on to bare metal or cloud server.
We have a ton of resources dedicated to data backup at our Knowledge Base, but be sure to read our Backup Primer first!
2. Ensure your CMS is current. Whether you use WordPress, Drupal, Joomla, etc, it's always best to update to the most current installation as they often include much needed security improvements. Remember to perform a complete backup before updating, just in case something breaks.
3. Update all plugins and themes. Take a look at your can't-live-without plugins and see if a new version is ready for download. Update the plugins you are using and delete the ones you don't need. Eliminate unused third party plugins that slow down and bloat your site.
4. Upgrade your control panel. Ensure your control panel is upgraded to the latest version. Note that once a version enters End of Life, there will be no more installations, fixes, or patches available, so upgrading is important. You may even want to take inventory and see what other panels are out there; we posted an in-depth comparison article featuring InterWorx, cPanel, and Plesk, so you can determine which control panel is best suited for your operations.
5. Check RAID alarm. For you RAID users, check to make sure you didn't miss a notification regarding any sort of disk failure. Some RAID levels will only accept a single disk failure before it stops working. For those unsure if they need RAID, or which configuration is best for your server set-up, we recently did a deep dive on that subject.
6. Monitor Server Resources. Make sure you are not near peak resource limit by taking a look at your server's CPU, RAM, and disk. If there's nothing you can remove, you may need to consider upgrading your server. Perhaps consider an autoscaling cloud server that protects against traffic spikes, so your website is always available. You can view all this in the "Resource Usage" section if you have a HostDime CORE account.
7. Consolidate and archive old content. Now would be a good time to take stock of the backend of your site and remove any web scripts, databases, or other files that are no longer in use or needed.
8. Have you made the HTTPS switch yet? HTTP sites that have yet to switch over to HTTPS will show visitors a "Not Secure" next to the URL. This doesn't inspire the greatest vote of confidence when someone is visiting your website. Websites with HTTP connections are labeled to warn users that their passwords and credit card data may be compromised. To fix this, your website needs an SSL certificate that promises secure transmission of personal data. Provide client peace of mind for just $30 a year.
9. Clean out e-mail and combat spam. Save server space by cleaning out your e-mail if you are not in the habit of deleting them immediately. Also, removing old email addresses that are no longer in use will not just save space as well, but alleviate spam. Speaking of, if you are having a problem with spam and/or reputation, consider checking out HostDime's e-mail filter. This removes spam from your mail in our cloud first, ensuring only clean mail goes to and from your mail accounts.
10. Change and diversify old passwords. It's a good habit to change your passwords every few months. Also it's a bad idea to have the same password for most of your company's logins. If one password is comprised, a hacker would have carte blanche over your data. For more helpful tips, check out this article for more ways to stay secure.
HostDime is a privately owned, Global Data Center Infrastructure provider offering cloud-native infrastructure products and services including bare-metal servers, cloud servers (both private and public), colocation, and Hardware-as-a-Service in all our unique global edge data center locations.
HostingAdvice.com wrote a great article on our legacy of "top-tier infrastructure solutions with great customer service for nearly two decades." Read about our goal to deliver the highest in uptime around the world thanks to next gen, edge data centers.