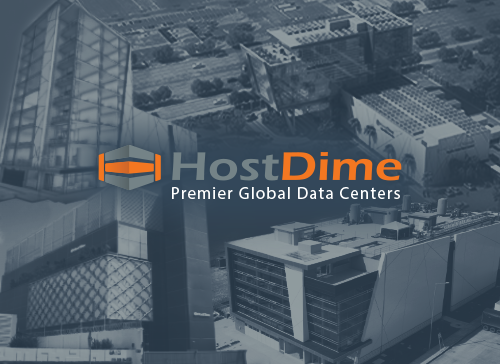 HostDime's mission is to design, build, and operate public Tier 4 data center facilities in emerging markets around the globe. As a rule, we purpose built these data centers to achieve Tier 4 standards. Here's why.
Data Center Tier Classification
25 years ago, the Uptime Institute created a Tier classification level to grade data center performance. These standards have been recognized worldwide for data center availability, reliability, and overall efficiencies; they are the industry standard for Design and Construction excellence.
Their classification ranks data centers from 1 to 4, with 1 being the worst and 4 the best. Here's the breakdown:
Tier 1 – A data center with a single path for power and cooling, but no backup components. Tier I does not protect against unexpected failure or outage; facilities will have to shut down completely for maintenance and repairs, resulting in unplanned disruptions. Expected uptime: 99.671%, or 28.8 hours of downtime per year.
Tier 2 – A data center with a single path for power and cooling, while providing some redundant and backup components. Just like a Tier 1 facility, unexpected shutdown of a Tier 2 data center will affect the overview system. Expected uptime: 99.741%, or 22 hours of downtime per year.
Tier 3 – A data center with multiple paths for power and cooling that is concurrently maintainable with redundant components. Unlike Tier 1 and 2, Tier 3 facilities do not require shutdowns for maintenance or replacement. Expected uptime: 99.982%, or 1.6 hours of downtime per year.
Tier 4 – A data center with several independent and physically isolated systems to create a completely fault-tolerant infrastructure with redundancy for every component. When something fails, IT operations are not affected. These facilities also require continuous cooling for a stable environment. Expected uptime: 99.995%, or 26 minutes per year
Finding the right data center could be the difference between an average of 28 hours to 26 minutes of downtime for your enterprise. A Tier 4 certification from the Uptime Institute shows investors, customers, and the marketplace that the infrastructure has true 24/7 availability.
Tier 4 Data Centers: The Best of the Best
Tier 4 is the highest class certification a data center can receive; they are secure, climate-controlled, and highly redundant in nature. Facilities must pass strict design requirements covering mechanical, electrical, structural, and site elements.
In addition to meeting all the requirements of Tier 1, Tier 2, and Tier 3 data centers, Tier 4 data centers must meet the following criteria:
99.995% Uptime – Sometimes referred to as the four 9's, Tier 4 facilities have 99.99% availability and often reach 100% uptime year after year due to their highly redundant power infrastructure.
2N+1 Redundancy – The 2N+1 model provides double the operational capacity (2N) with the extra backup component (+1) in the event of failure while the data center uses the secondary system.
Fault Tolerant – With every process being fully redundant, there is no single point of failure. All IT equipment must follow a fault-tolerant power design.
96 Hour Outage Protection – The data center must have the capacity for four days of independent power not connected to any outside source.
Continuous Cooling – The data center environment must remain at an ideal temperature for maximum efficiency and to extend the lifecycle of hardware.
Tier 4 data centers provide enterprise-level service for mission-critical infrastructure. As the most sophisticated tier, Tier 4 data center clients who require the most extreme demand of services will be satisfied.

HostDime's Tier 4 Data Centers
HostDime only builds Tier 4 as a standard in its fleet; there's no compromise on investment to deliver mission-critical data center infrastructure. HostDime's in-house engineers are the sole developers and design engineers for our own facilities.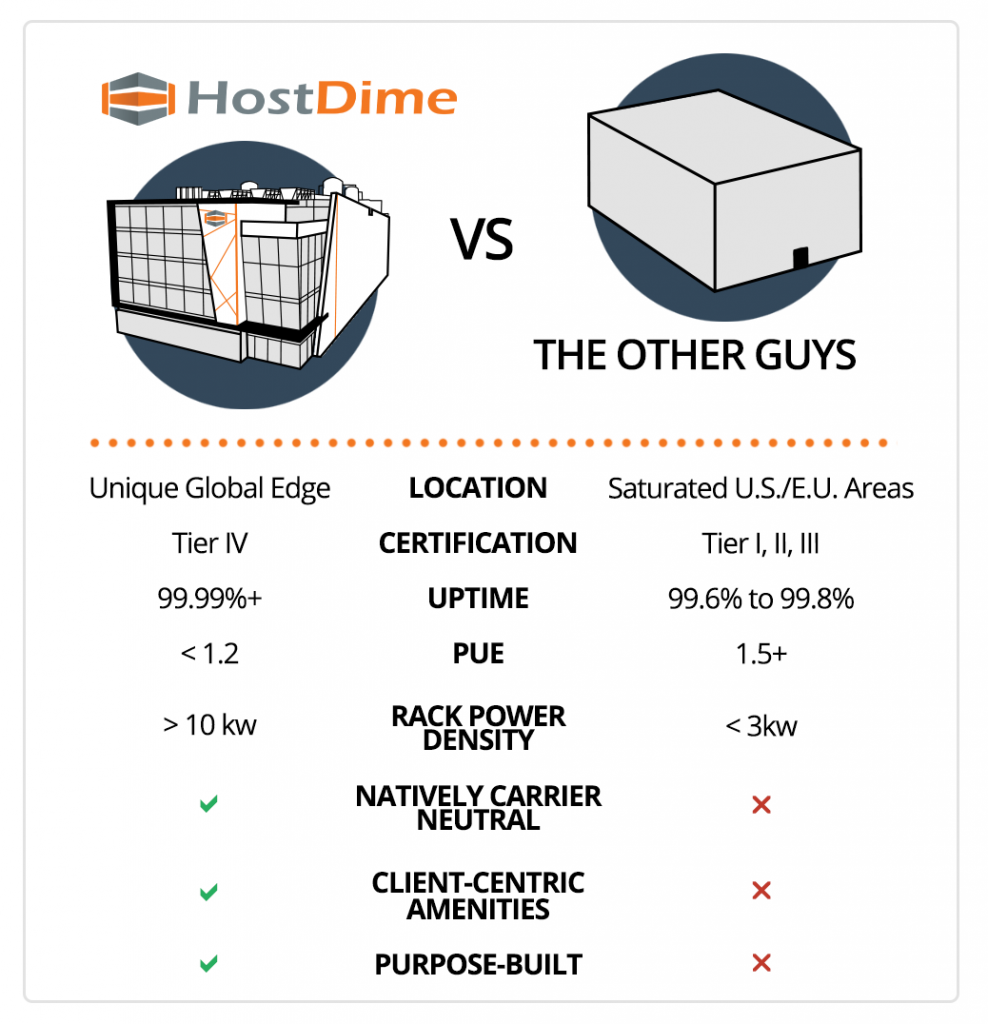 Bogotá, Colombia – HostDime's upcoming 65,000 square foot data center in central Bogotá has received the coveted Tier 4 design certification from the Uptime Institute. It will be one of the only Tier 4 data center facilities in Colombia ready to service mission critical loads. 20 500KW Uninterruptible Power Supplies will allow for any fault in the system and/or path to occur without affecting critical loads, thereby achieving Tier 4 standards of 99.995% uptime. HostDime Colombia's data center is scheduled to open Q1 2022.
Orlando, Florida – HostDime's upcoming Orlando data center complex will serve as the only enterprise Tier 4 data center in Central Florida, and only the sixth in the United States. Expanding on the highest Tier 4 electrical and mechanical designs, we created an unique, three-tier electrical power design that will allow the facility to sustain two consecutive system failures and still be operational, making the standard N+1 redundancy a thing of the past. At full capacity, the facility is designed to support 8MW of fully redundant power. This facility, which will also be our headquarters, is scheduled to open Q4 2022.
Guadalajara, Mexico – HostDime recently announced the purchase of a three-acre land parcel in Guadalajara, Mexico for a 70,000 square feet data center that will feature 6MW of power infrastructure. This will be only the second Tier 4 public data center in Mexico. HostDime Mexico's data center is scheduled to be open in Q4 2023.