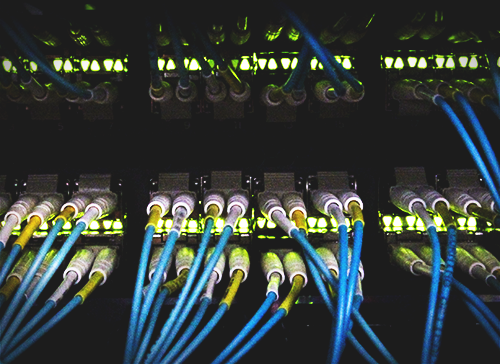 Carrier neutral data centers are facilities that allow interconnectivity between multiple telecommunication carriers and colocation providers. To achieve this, a cross connect links the ISP or telco to a customer's server rack. This fiber or copper link takes the bandwidth directly from the source, avoiding all other network switches.
Enterprises looking for colocation can buy just the space and power they need from their nearby data center, while purchasing the bandwidth directly from their provider of choice. As the Internet continues to evolve and penetrate globally, the need for networks and enterprises to interconnect will become more mainstream.

The Benefits of a Carrier Neutral Data Center
When shopping for which data center is best, make sure you ask about carrier neutrality. While many data centers are single carrier only, HostDime's Orlando data center is carrier neutral. Here is why that's important.
Choice and Flexibility: All carriers are different, and carry their own pros and cons, like routing paths and specific hardware. Choose the carrier that best fits your needs, and if another carrier comes along that offers a better fit and/or lower prices, you can switch providers while physically staying in the same data center and server space. More options is always a better thing.
Cost Efficiency: With all the carriers competing for best price and most connectivity, it's common sense that network neutral data centers have a cost advantage over single network facilities. You're also likely to get better customer service because of the easy potential to switch carriers.
Fully Redundant Infrastructure: When a problem occurs with a network in a single carrier data center, your server goes down and your business loses money and customer confidence. Even worse, you may lose data. Carrier neutral data centers can switch servers to a online carrier immediately in the event another carrier fails.
Low Latency: A cross connect, which shares bandwidth from the ISP and the server, reduces the number of hops between carriers. By avoiding all other network switches, no extra latency is added, providing your business the fastest connectivity possible.

HostDime's Orlando Carrier Neutral Data Center
HostDime's current facility and upcoming 2020 data center are some of the most well-connected data centers in Florida and the most connected facilities in the Orlando Metro area.
The following is just a sampling of the providers and gateways that HostDime colocation clients have access to:
CenturyLink
Cogent
FPLFibernet / CrownCastle
Spectrum (formerly Bright House)
Telefonica
Zayo
Summit Broadband
Windstream
SmartCity
CommunityIX (FL-iX)
The NAP of the Americas is especially beneficial for companies with an international presence. Colocation in Miami is among the most expensive in the United States because the pathway and data traffic from Central and South America is concentrated there. So the NAP allows for all the perks of having Miami colocation, such as having direct access to all the on-net carriers in the facility, at a much better cost than having your own servers physically in Miami.

Have Your LOA Ready
OK so how does one get the ball rolling on a cross connect? You will need to sign up for our colocation service. Once active, you will need a cross connect from our network room where the providers are, to your space on the data center floor. The pricing is $75 a month for a copper connect, or $150 for a fiber connect. There is no limitation on the amount of uplinks or cross connects.
Once everything is in place on our side (space + cross connect), you will need to have your own contract directly with the provider you choose. This is called an LOA (Letter of Authorization) that gives you permission to run a copper or fiber cross connect to another space. The LOA must be on company letterhead. Most LOA's usually include what cabinet or rack the connection will go to, which patch panel to go in and accompanying port designation, the type of media, the type of fiber, and so on.
If any questions regarding this process, start a chat with our Orlando support team. Hope this was informative and to hear from you soon!
Jared Smith is HostDime's SEO & Content Strategist.