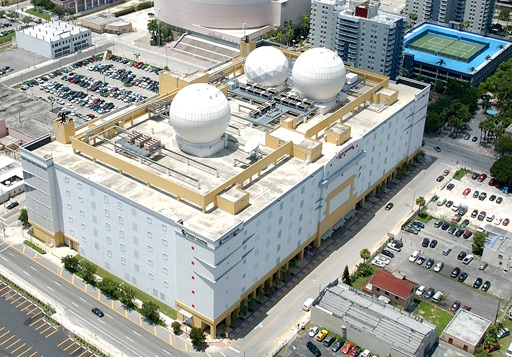 NAP Of the Americas Miami Data Center
The Network Access Point (NAP) of the Americas (previously Verizon's Terremark NAP, now owned by Equinix) in Miami, Florida is one of the largest data centers in the world, with over 750,000 square feet of data center space. The massive facility, now known as Equinix MI1, is one of the most well-connected Internet transit hubs in the world for traffic between the United States, Central America, South America, Europe, and Africa. Due to the 250+ on-net network carriers in the facility, this is an ideal location for interconnection been private and public networks.
Colocation at this Miami data center and others in the area are among the most expensive in the United States. This is because of the pathway and data traffic from Central and South America is mainly concentrated in Miami.
HostDime currently leases irrevocable dark fiber rights between Miami and Orlando. HostDime's diverse fiber connection from our Orlando data center to the NAP of the Americas is beneficial for us and our clients because it means we are VIRTUALLY in one of the world's most sought after Demarc meet-me-rooms (MMRs). This allows any client in our Orlando data center facility to connect to any of the 250+ carriers in the Miami facility over a normal cross connect via layer 2 transport in 1G or 10G capacities.
This also means we can provide a direct connection to one of the largest peering exchanges in the world known as NOTA in NAP of the Americas, and the second most sought after peering exchange FL-IX directly from our Orlando data center. This is accomplished by running DWDM optical waves from our network in Orlando to our network gear in Miami, which creates a private connection between both facilities. Therefore our facility in Orlando has a physical extension to Miami's NAP.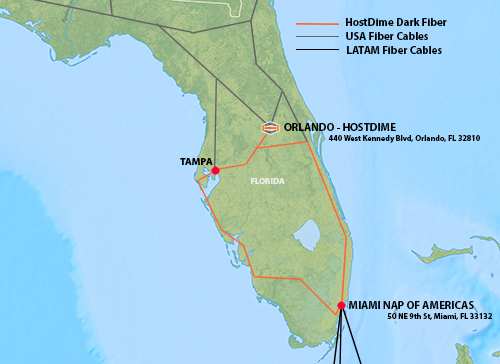 This translates to our clients getting all the perks of having Miami colocation, such as peering with providers and having direct access to all the on-net carriers in the facility, at a better cost than having your own servers or colocation physically in Miami.
HostDime's Miami colocation alternative location Orlando provides a cost-effective colocation solution for your business with virtually no impact on latency (5-8ms). This ensures that HostDime customers save on their infrastructure costs while using our Orlando data center for colocation while still having all the benefits of the NAP in Miami.
HostDime also caters to the South American market with data centers in Guadalajara, Mexico, Sáo Paulo, Brazil, Joáo Pessoa, Brazil, and Bogotá, Colombia.
Check out our free data center speed test to see how fast we are in each location. Make sure your visitors are receiving the fastest response times to your infrastructure by selecting the proper target location of your audience. Select one of eight data center locations, choose a file size, and input a location IP to download a test file.
HostDime.com, Inc., a Global Data Center Company, offers an array of cloud products which include managed services for dedicated servers, VPS (Virtual Private Servers) and colocation. HostDime.com owns and operates data centers in Orlando, Florida as well as India, Mexico and Brazil, with facilities in Colombia, Hong Kong, and the United Kingdom.
Jared Smith is HostDime's Content and SEO Strategist.