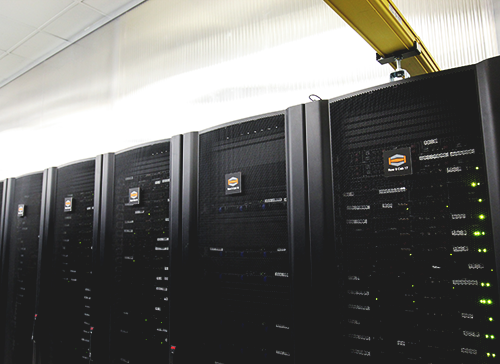 Data center build vs buy: which is a better investment for your enterprise?



Data center outsourcing has been a sustained trend this decade with companies removing on-premises data center space in favor of cloud services and modern colocation. According to 451 Research, 51% of North American data center space is now outsourced.
This decade will continue to see more of the same, as the global data center colocation market is estimated to see investment of over $31 billion in 2023, growing at an impressive CAGR of 7% by 2025, according to ResearchandMarkets.com.
Let's take a look at some of the costs involved with building versus colocating your data center operations and infrastructure.
Data Center Build vs Buy Cost Breakdown
Each day, more enterprises realize the competitive advantage of having colocation infrastructure behind their products and services versus on-premises data centers.
Some of these movers include large corporations, who built their own data centers in the aughts and are now realizing that it's going to cost millions to get their infrastructure to match the rapidly changing technology standards.
On the flip side, newer corporations have found the cost of building vs colocating is no comparison.
Say you want a set-up of 10 cabinets in a Tier 3 data center. Intel recently estimated the price for a three year period would be $275,175 for colocation, versus $886,523 if you build your own.

Construction factors to consider:
Preparation costs like engineering, permits, and demolition
Power costs like main switch gear, UPS systems, generators, PDU's, and other utilities
Environmental costs like HVAC, fire suppression, and raised floors
Security costs like monitoring systems and CCTV
IT Staff Expense: Having an in-house IT team can get costly in a hurry. Aside from the employees' base salary, remember to include benefits like vacation days and medical, knowledge gap, unproductive rate, and turnover rate. Additionally, think of all the time you get back when you no longer have to spend time on installation, maintenance, and hiring IT staff. With colocation, you receive 24/7/365 support from highly specialized server professionals, and the cost is always simple and predictable.

Connectivity: Many data centers are single tenant; if you seek carrier neutrality, this will be a costly and lengthly process. Colocation providers have a huge advantage here, as they have Point of Presence rooms that feature multiple carriers and ISPs linking straight to the server racks from the source. This provides full redundancy, lower latency, and the flexibility to switch carriers.
Legal Compliance: Regulatory compliances are usually taken care of by data center providers. For starters, you need to ensure the confidentiality and privacy of your users and their data, which is required for a SOC 2 Type II certification. Additional compliance is required if you are a large payment processor, government identity, and so on. Data center certifications for compliance is not a cheap process; wholesale colocation is an easy way to avoid these costs.

Global Scalability: Large enterprises looking to maintain or become a global presence need to leverage edge data centers in order to succeed. Obviously building data centers in every major city isn't feasible; finding colocation in mid-sized cities with the capacity and infrastructure needed to support intensive operations is a much more cost-effective solution.

Colocation in Purpose Built Data Centers
All enterprises are trying to increase performance, reduce latency, gain speed on their deployment, and save money. Colocation checks all these boxes.
HostDime has purpose built data centers strategically placed worldwide to ensure your visitors are receiving the fastest response times to your website. When a data center is purpose built from scratch, it is specifically designed and engineered to provide maximum uptime, security, and usability.
Our mission is to design, build, and operate next-gen data centers in emerging markets around the globe, with facilities in Mexico, Brazil, Colombia and our flagship facility in Florida, USA, and with owned networks in UK, India, and Hong Kong.
Open a chat now to get started on your customizable colocation solution.