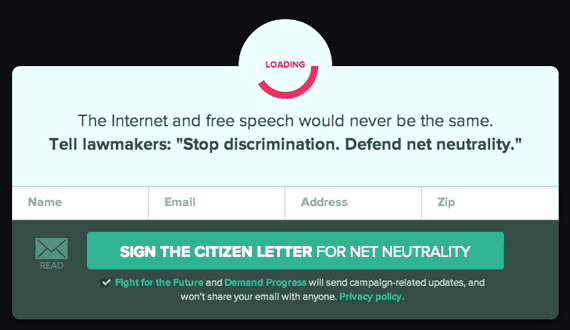 Net neutrality is the idea that ISPs and governments should treat all Internet data equally. Net neutrality is about democracy, and is essential to the future and growth of the global Internet. This idea is under attack by the FCC and telecom giants like AT&T, Comcast, and Verizon, who will have the ability to speed up, slow down, and block traffic, all while charging users more for less services.
Tonight at 12 AM EST, Internet giants like Netflix, Mozilla, Kickstarter, Etsy, and Reddit will bring awareness to net neutrality for 24 hours by showing a slow-loading graphic similar to the one above. It will include an option to sign a citizen letter to keep net neutrality.
You and your website can get in on the activism as well, if you have a WordPress blog. Click here to download the plugin. If you choose to use this, visitors to your website will see only the icon, until they sign or decline the letter, then the rest of the blog will appear. Remember, this will not actually slow down your site, it's just symbolic.
Help fight back against net neutrality! We will be using the plugin, you should too. If we lose this battle, our Internet packages could look like this: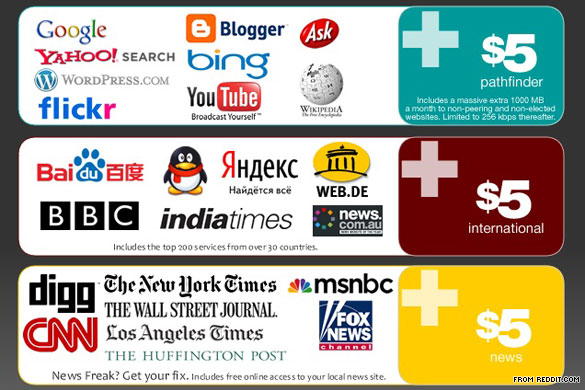 HostDime.com, Inc is a global data center infrastructure provider offering an array of cloud products from managed hosting servers to colocation services that cater to a range of clients, from entry-level to enterprise-level operations.
Jared Smith is HostDime's Content and SEO Strategist. Follow Jared on Twitter.