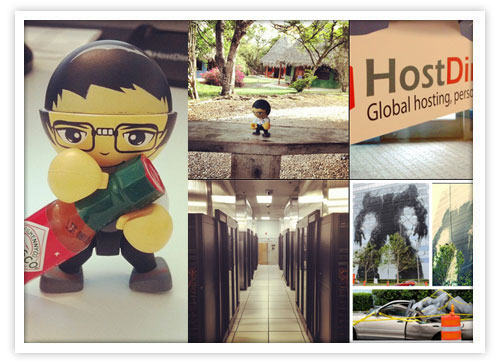 Once you spend enough time on photo sharing app Instagram, you'll begin to notice trends. Your visual feed filled with picture after picture of selfies, food, and sunsets. We compiled a list of the top 10 Instagram trends, illustrated entirely by HostDime photographs. This was made possible yesterday when Instagram finally rolled out the embed option for photos and videos.
You can probably think of more Instagram cliches; share them with us in the comments, especially if they are your own photos.
Trend 1 – #Beach
There's nothing worse than being stuck at work and seeing someone at the beach.
Trend 2 – #Food
HostDime Alex has never looked so good.
Trend 3 – Throwback Thursday #TBT
What a difference a few years make!
Trend 4 – #Clouds
The view from HostDime's Downtown Office.
Trend 5 – #Geekiness
Use the force, HostDime Alex!
Trend 6 – #Selfie
Bonus points if you can take a hands-free self portrait.
Trend 7 – #Vacation
HostDime Alex visiting the Golden Gate Bridge.
Trend 8 – #Exercise
HostDime participating at Race for the Cure.
Trend 9 – Flashin' #Cash #Money
Sometimes the world needs to know that you are a baller.
Trend 10 – #Pranks
RIP Clayton.

"Oh look, Christmas presents! Wait, this is my stuff…"

Follow HostDime for News, Tutorials, Contests, and Specials
Jared Smith is HostDime's Content Marketer. Follow him on Twitter.