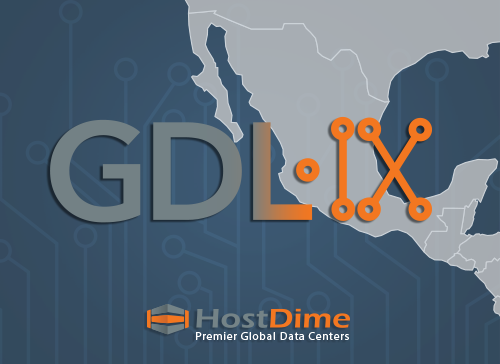 HostDime Mexico is proud to announce that GDL-IX, Guadalajara's first peering exchange, will make its home at HostDime Mexico's current Guadalajara data center. Once HostDime completes its new Tier IV data center in Guadalajara next year, GDL-IX will be extended to the new facility as well. GDL-IX will be operational for tenants, carriers, and content providers to exchange traffic by March 10, 2023.
GDL-IX was recently approved to be launched by LAC-IX (Latin American and Caribbean Internet Exchange), an affiliate of LACNIC. This is HostDime's second data center selected by an IXP to be a resident in a HostDime facility, with the first being the IX.br exchange point residing in their João Pessoa, Brazil data center. HostDime is also working to set up CFL-IX (Orlando's first peering exchange) in its upcoming Orlando Tier IV data center, which will be completed in Q2 2023.
IXPs enable networks to interconnect and exchange traffic. It functions as a central hub in the same way that an airport or train station facilitates the transfer of people between two locations. IXPs allow network data to be exchanged quickly and efficiently.
More importantly, it allows content to stay local; with GDL-IX being at HostDime's Mexico Guadalajara data center, it will keep Internet traffic inside Guadalajara and reduce costs associated with the exchange of traffic between network carriers, content providers, and ISPs. This yields better latency, stability, efficiency, and quality, all at a lower cost. Multiple ISPs can connect their networks without having to pay for transit from another provider. This gives direct access to other providers across the globe, allowing for faster data transmission times with fewer hops than if each ISP had to rely on indirect routes through third-party transit providers. The GDL-IX peering exchange ecosystem will allow carriers and tenants to interconnect and be able to serve content to over 90% of the population in Mexico at the lowest latency.
Since its inception, HostDime has been a native carrier-neutral data center developer and operator, meaning there's no catering to a specific fiber/telecom company. Most older-generation data centers were designed by telecoms, thus making it difficult by design for IXP's to be fostered by the network of community carriers. The network world is quickly evolving towards interconnection and a peering-first approach. With the ever-growing needs of applications and cloud providers connecting with others, this removes layers and hops, therefore increasing performance by minimizing latency.
HostDime designs its next-gen, purpose-built data centers to foster interconnection and future-proofing them by design. Four to six manhole entries are designed into each facility to ensure enough entry redundancy and capacity to provide entry to over 50+ carriers in HostDime's diverse Meet Me Rooms over the next few decades.
HostDime is currently in the process of beginning construction on its second data center in Guadalajara, Mexico dubbed "Andromeda", which will be only the second Tier IV data center in Mexico.
While GDL-IX will be initially housed out of HostDime's current Guadalajara data center, it will later be extended to the new facility upon commission via a protected dual path fiber ring between both of HostDime's Guadalajara data center facilities. The new facility expects entry from leading local carriers such as Marcatel, MetroCarrier, Axtel, TotalPlay, Alestra, Arelion, Cogent, Gold Data, Bestel, Flo Networks (Transtelco), and Telmex. This new data center will be one of the most interconnected facilities in Mexico in the next few years and will be a main interconnection point for transit and peering in Guadalajara.
HostDime is a global native carrier-neutral data center infrastructure company operating purpose-built public data center facilities in Mexico, Brazil, Colombia, and our flagship facility in Florida, USA, and with owned networks in the U.K., India, and Hong Kong. HostDime's near term roadmap includes a continued focus on Latin America with purpose-built facilities coming to Peru, Ecuador, Argentina, and Bolivia.
HostDime's mission is to design, build, and operate purpose-built, next-gen, public data center facilities in emerging markets at the global edge. HostDime offers an array of cloud-native infrastructure products and services including physical bare-metal servers, private cloud servers, colocation (cages and racks), and Hardware-as-a-Service in all our unique global edge data center locations. HostDime also provides professional managed services on all core products globally.