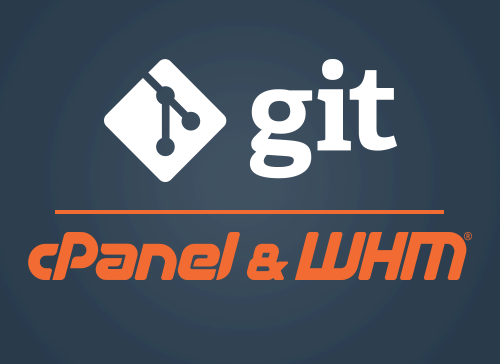 Git Now Available on cPanel Servers!
Git with the program and update your cPanel server to the latest version for Git Version Control and Automatic Deployment.
Git is Source Code Management (SCM) known for speed, data integrity, and the ability for distributed, non-linear workflows. Git stores your data in databases called repositories.  You can create a repository on your cPanel account, or you can clone an existing repository.
In cPanel & WHM release 72, version control tools in File Manager allow you to pull/push/checkout/check-in repositories to the directory you choose, and keep it updated.
cPanel & WHM comes free with HostDime managed VPS servers and managed bare metal dedicated servers.
Git's Unique Branching Approach
The Git feature that sets it apart from the rest of the SCMs is its branching model, which is a multi-later set-up with many different repositories that merge into one main repository. It's great for projects that have multiple teams working on different things, and you can easily track changes in a system of files that multiple users can manage at the same time.
For a step by step guide on creating, managing, cloning, and deleting repositories hosted in cPanel, head here.
More Git features:
Find differences between revisions.
View a line-by-line change history for a file, including author.
Find log information like author, date, and message.
Change files before or after you push them.
Solve merge conflicts when changes collide.
Discover when bugs were introduced through comparisons.
Git Version Control Automatic Deployment
It has never been easier or quicker to put your finished code into production. In version 74, available in CURRENT release now and planned for STABLE within the next few weeks, cPanel users can head to the "Manage" section to manually or automatically deploy changes from cPanel-hosted repositories.
You can use different configurations to automatically or manually deploy changes.
With automatic (push) deployment, a git push command sends changes from your local computer to your cPanel-managed repository, which will send changes to your website's public files directory.
With manually (pull) deployment, a git push command sends changes from your local computer to a remote repository. Then once you manually confirm deployment, the system will retrieve changes from the remote repository and apply them to the cPanel-managed repository, which will send changes from the cPanel-managed repository to your website's public files directory.
HostDime provides FREE cPanel migration for all new accounts less than 30 days from sign-up date. Whether you're running a single VPS or multiple dedicated servers, we handle any request with ease and affordability for you and your clients. Chat with us now!
Jared Smith is HostDime's SEO & Content Strategist.