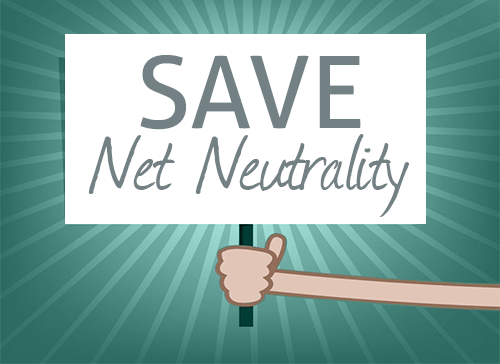 Net neutrality is the principal that ISPs and governments should treat all Internet data equally. Net neutrality is about democracy, and is essential to the future and growth of the global Internet.
This idea is under attack by the FCC and telecom giants like AT&T, Comcast, and Verizon, who will have the ability to speed up, slow down, and block traffic, all while charging extra fees. Corporations connecting you online should not get to control what you do online.
What
if
the
Internet
was
so
slow
it
loaded
one
word
at
a
time
—
except
on
sites
that
paid
off
your
ISP?#netneutrality

— Nicholas Thompson (@nxthompson) July 12, 2017
Today is a day of action focusing on grassroots campaigns to provide web visitors with tools to contact Congress and the FCC. You may already notice many of your favorite websites coming together to show their support to try to prevent this widespread throttling, blocking, and censorship from happening. Amazon and Netflix will purposely throttle their sites and upset their viewers to show what could happen in our near future.
Join HostDime in support of net neutrality, and write a brief letter that will be sent to the FCC voicing your displeasure. The deadline to speak up is July 17th. Millions came together in 2014 and now that victory over ISPs is in jeopardy.
Strong anti-net neutrality rules will put your company and your customers' companies at risk. Stop the FCC from choosing corporations over small businesses. Just take a minute to share your thoughts, and if you have a platform, add an alert to your homepage today to show your visitors what the web would look like without net neutrality.
HostDime.com, Inc is a global data center infrastructure provider offering an array of cloud products from managed hosting servers to colocation services that cater to a range of clients, from entry-level to enterprise-level operations.
Jared Smith is HostDime's Content and SEO Strategist.