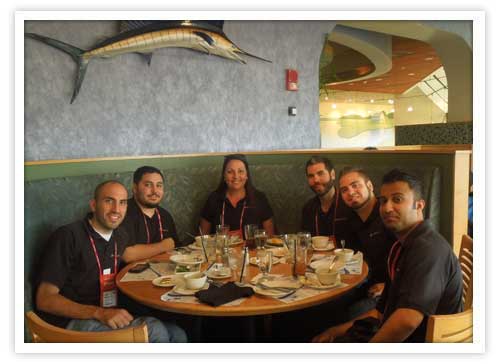 The HostDime crew was fortunate to be able to attend one of the web hosting industry's biggest events of the year: HostingCon 2012 in Boston, Massachusetts. HostingCon was held at the John B. Hynes Convention Center and featured over 150 exhibitors, over 50 sessions as well as keynotes from industry experts.
Conferences are always a great place to learn new things and meet up with associates, but here are the 10 things that made HostingCon 2012 so great.
1) The Networking
Thousands of people attend, exhibit and present at HostingCon. It is a great opportunity to network with people in the industry. People attend from around the world and from a variety of backgrounds. It's also refreshing that everyone speaks the same lingo and no one minds when you pull out your smartphone in the middle of lunch. It's nice to be able to meet with industry professionals to explore opportunities with the new products and services available as well as touch base with existing partners. Vikki F., Director of Marketing noted "I'm glad I got a chance to talk to people like the folks at Web Hosting Talk to let them know that what they do is important to our business."
2) The Sessions
Web Hosting and its peripheral industries are constantly changing. Sessions are a great way to tap into the expertise of thought leaders who are generous with their time and expertise. This year's sessions were categorized to target the sessions a particular person might be interested in attending.  Alex F., Director of Customer Relations said "In these sessions one gets to gather with peers to listen to professionals of various specialties ranging from sales/marketing, industry trends, technology and management. One of the sessions I was able to attend was on the breakdown on the pros and cons of several solutions. While the session was informative, it also opened a nice forum of questions from several attendees to the speaker expanding on what was already discussed. All in all, while the exhibits and networking are crucial to the success of an industry event, I consider having the option to attend sessions led by industry professionals is a bonus that everyone should be able to experience."
3) The Meetings
– Months in advance, associates, clients, partners and friends make plans to meet up while at HostingCon. It's nice to get to see people in person, shake their hand and have a conversation face to face.  (Side note to Jim S., had we known you were 9 feet tall we would have spotted you way earlier) A special thanks to our friends at cPanel, OpenSRS and Comodo for your time and attention.
4) The Exhibitors
– This year's exhibitors were informative, fun and from a diverse array of web hosting compatible products and services. Many had fun games and giveaways to keep the expo hall active and fun. It is refreshing and invigorating to have a conversation with like-minded professionals about your business.
5) The Friends
– You can tell by the big smiles, the warm handshakes and hugs that some folks in the industry have become pretty close. And why not? They get you. They get what you do. And by golly, we're all a lot of fun.
6) The SWAG
– RC Helicopters? Nerf Guns? Flying Monkeys? All this and more was being given away at the exhibitor booths. The goodies at this show required an extra suitcase! Personal favorite: SiteLock's USB phone charger. (Also thanks to the gals at The WHIR for sending us back with a stack of Size S tees)
7) The Food
– Lobster rolls, lobster bisque, lobster ravioli, clam chowder, oh man this city has some fine food. Thank you to iNet Interactive and after party sponsors for making sure our Bostonian gastronomy experience was a good one.
8) The City
– The HostDime crew got a chance to bit of exploring around Boston (Some of it due to a wrong turn) but we were amazed by the history, the architecture and the cool morning weather. Add in the aforementioned delicious food and friends and this city is where it's at.
9) The Giveaways
– Exhibitors were extra generous this year with their giveaways. We saw MacBooks, iPads, Apple TVs, Video Games, Amazon Gift Cards and more being given away. Some people really know to get to a techies heart. (Vikki's still in the corner moping about not getting the MacBook).
10) The After Parties
– Many thanks to all of the sponsors of some the best after parties a conference has ever known.  HostDime crew had an excellent time at Host Me All Night Long (cPanel, SoftLayer and ComCure) featuring comedian Ralphie May and a great band Yellow Brick Road at the Royale Boston. The R1Soft announcement party at Lir and the HostingCon – Giglinx Closing Reception at the Prudential Building (great food, great views!)
In the end, we left with great ideas, renewed relationships, new opportunities and full bellies.
Thanks Boston and HostingCon for your hospitality!
Check out the pictures on our Facebook Page or Google+ Page, or by tweeting us at @HostDime.