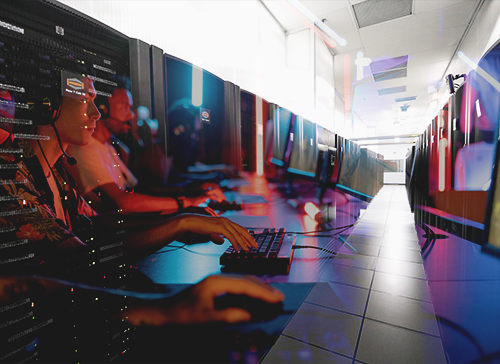 It is estimated that the global gaming market will amount to $269 billion annually by 2025, up from $178 billion in 2021. More than two out of three people in the US consider themselves at least a part-time gamer, with adoption rising heavily due to mobile gaming and the emergence of 5G networks.
5G dramatically improves the cloud gaming experience because data transmit times are 100 times faster than 4G, and data capacity is 1000 times that of 4G. This makes for a much faster response time between gamer request and action, and significantly less lag during gameplay. This comes into play most during massive multiplayer scenario games, as gamers around the world need to be in sync and see the same rendering.
There's only one problem: the current infrastructure can't support seamless 5G gaming due to latency in the form of buffering, delays, and packet loss.
Latency and Bandwidth Concerns with 5G Gaming
Human brains can usually detect latency above 20 milliseconds (ms). Coincidentally, gaming latency is also about 20 ms, so we rarely notice a lag. However, peak traffic times will raise the latency above 20 ms, and that's when you notice impact on gameplay. This happens frequently with mobile gaming because of smartphone data transmission delays.
This is also a major hindrance for Virtual Reality adoption. Motion to photon latency refers to the time you move your head to the time a new display is emitted for your new head/eye position. A delay between head movement and VR display change triggers motion sickness in some people. Adding just 10-20 milliseconds of latency can be the difference between a seamless service and a worthless service.
Think about all the steps required to move Lionel Messi an inch in FIFA 22. You flick the controller stick, which sends a signal through the Internet, to a data center, to a server, which processes the action, and then sends the action back to your monitor, all in milliseconds. This process is happening millions upon millions of times an hour all around the world.
As currently constructed, centralized data centers simply can't match the speed or capacity needed for 5G gaming. The travel time for data to go back and forth from console to data center is too long, and the large amount of data from next-gen games create network bottlenecks.
If you're playing FIFA in Colombia, and your gaming service's closest data center is in Texas, the trip from hardware to data center may be too long and could create frustrating gameplay.
To match the high bandwidth and low latency demand of modern day gamers, cloud gaming companies must connect to as many Points of Presences (PoPs) as possible to achieve the fastest infrastructure.
Global Edge Data Centers to the Rescue
The best way for 5G gaming to take the next step is for gaming companies to harness the massive amounts of connectivity, processing, and storage of Tier 4 data centers at the global edge.
Branching out from just the metro cities to incorporate the edge will eliminate issues like data congestion and poor connection for a higher likelihood of a seamless gaming experience. Already one-third of all traffic use edge data centers to bypass the core networks, keeping data at the edge near end users.
In a perfect world, building your own data center to support your service would be best, however, that luxury is for the Microsofts and Googles of the world. So while building data centers in every major city isn't feasible, finding colocation and utilizing carrier neutral data centers with the capacity and infrastructure needed to support these intensive operations is a much more realistic and cost-effective solution.
Lastly, finding owner-operated edge data centers is key. When the owner, management, and IT staff are all the same company, the benefits are immense, including:
longer stability
quicker scalability and provisioning
HostDime has colocation options in edge data centers around the world. We operate our owned purpose-built data center facilities in Mexico, Brazil, Colombia and our flagship facility in Florida, USA, and with owned networks in UK, India, and Hong Kong. Ensure your users are receiving the fastest response times possible by hosting it closest to your target location. We can help your enterprise scale your operations globally to bring 5G gaming to the end user via low latency and lighting fast data transmission.
For more information and a customized set-up for your needs, contact us and let's chat!