As the old year retires and a new one is born, now is the time for some reflection. Time flies when you're having fun, and this year went by in a hurry. 2017 saw continued growth for HostDime and our clients; here's just a few highlights from the last 365 days:
HostDime Continues Global Expansion
New Brazil Data Center: On July 14, 2017, HostDime held a grand opening for our newest data center facility in João Pessoa, Brazil that was years in the making. The four-story data center building is a brand-new, privately-owned facility designed and constructed by HostDime. This is the second facility HostDime has built in Brazil, as we now cover both Northern and Southern Brazil. HostDime's total investment in this new facility was $15M USD. The facility can support up to 200 racks and also has private cage space for those companies who seek private spaces. The network currently has a capacity of 50G via a diverse network of providers such as Embratel, Tely, Telefonica, and Level3.
Colombia Land Purchase: In October, HostDime took action on our Colombia growth strategy with a land parcel in a highly secure and an enclosed industrial park in North Bogotá, Colombia. In the next 1-2 years, this will be the future home of HostDime Colombia's planned Tier IV facility, a rarity in the country. It will be used to augment our current capacity and infrastructure we service from.
11 Total Colocation Locations: HostDime's quest for world domination keeps rolling right along, as we now offer colocation options in 11 data centers around the globe.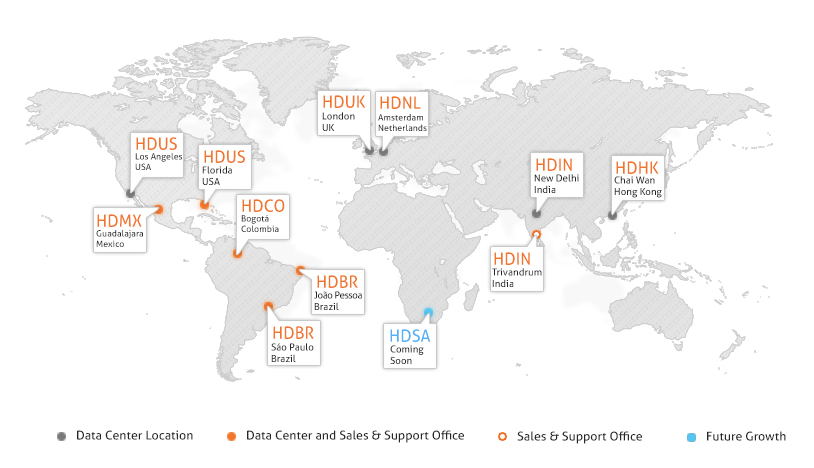 New Managed Servers Add-Ons and Services
KernelCare on Managed Dedicated Servers: KernelCare, the service that allows you to run your Linux servers for years without a single reboot, is now included on new purchases of HostDime's managed dedicated servers. KernelCare puts an end to rebooting servers by installing patches and bug fixes to your running server without impacting performance. Gone are the days of planning out emails to clients, and staying up during off-peak hours to make sure your reboot worked.
Hybrid DDoS Service: Until recently, HostDime offered two types of DDoS protection: Arbor Network's local inline mitigation, and cloud-based traffic scrubbing. Now, clients can receive the best of both worlds with our hybrid DDoS service. This unique set-up combines the inline DDoS protection appliance with the DDoS cloud filtering service. This protection detects and acts immediately against all sorts of large and complex attacks. When disruption occurs, clean traffic still gets through thanks to the cloud scrubbing.
HostDime vs. the Hurricane
We want to thank everyone who reached out to us with positive thoughts and wishes for our well-being during Hurricane Irma here in Orlando. We were able to seamlessly switch our operations to the DimeNOC datacenter for the duration of the storm and soon resumed normal operations. Also a huge thank you to HostDime team members who went above and beyond for storm preparation, facility management, and communication. Some folks even left their homes to ensure our facility was monitored 24/7, while others slept on property, and stayed for 40+ hours. A remarkable job by all!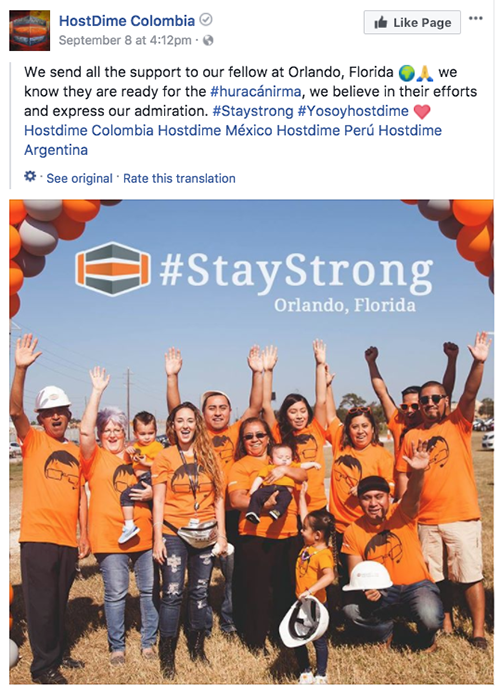 HostDime Gets Certified
As a premier global data center and infrastructure provider, HostDime.com, Inc. holds client security and privacy above all else. We further advanced this commitment by completing our SOC 2 Type II certification after being evaluated by a a third party independent validation source. An enterprise that accomplishes SOC 2 Type II certification has shown that they can keep their clients' sensitive data secure, which is essential in our industry.
And Best Of All…
Every year, HostDime does a charity drive helping out those in our community. This year we decided to partner with The Mustard Seed of Central Florida for a clothing and furniture drive. The Mustard Seed helps those who have lost everything due to homelessness, house fires, domestic abuse situations, and displaced families like those coming from U.S. territories affected by Hurricane Maria. A huge thank you goes out to our generous employees for pitching in during the holidays to help the less fortunate!
We have even bigger plans for 2018. If you would like to join our team, check the open jobs availability in Orlando and abroad at our international locations.
Jared Smith is HostDime's Content & SEO Strategist.