What is IPMI?
HostDime's bare metal servers feature Intelligent Platform Management Interface (IPMI) so your server can be managed REMOTELY from anywhere in the world. IPMI is included at no additional charge.
IPMI, created by Supermicro, is a piece of hardware that is added directly into the server's motherboard and your client portal CORE. Unlike many server providers that require a hardware key or software, all of our motherboards include dedicated KVM-over-IP functionality for REMOTE functionality and reboot capability. Even if your server is off and/or unresponsive, you can still use IPMI to access KVM via network connection to the hardware.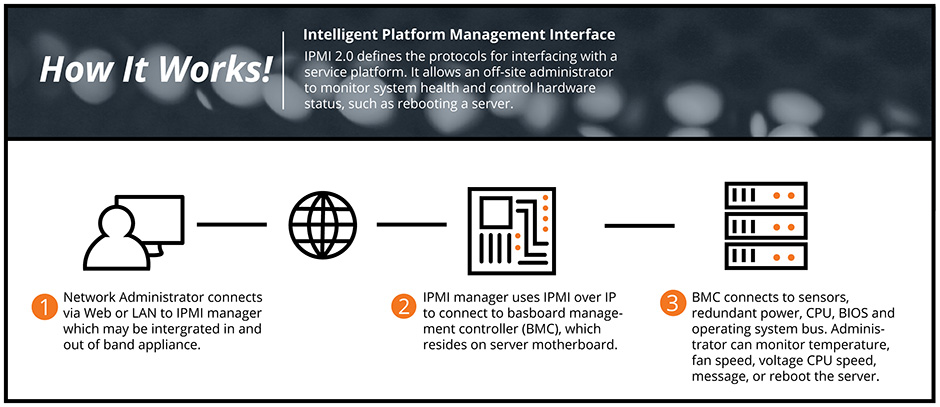 IPMI Benefits
Hands-on demand tools are the key to management efficiency. Remotely reboot your machine on the fly in your CORE client panel, from anywhere in the world, without the need to contact us.
Built into CORE for easy access/management
Remote reboot, power on/off instantly to avoid costly downtimes
Remote recovery capabilities (using the existing LAN connection) regardless of system state
Hardware health monitoring that aids predictive failure analysis
Independent of server, standalone, always available
Reduces Mean-Time-To-Repair (MTTR) by allowing 'diagnose-before-dispatch'
IPMI works with any OS
Dedicated KVM over IP on demand 24x7
Lowers your management costs as it's free with all our bare metal servers!
HostDime is constantly committed to offering the latest in managed dedicated server technology like IPMI. For any questions you may have, feel free to open a live chat or ticket in CORE.